FOR LATEST GALLERY UPDATES ON THIS APPLICATION
VISIT OUR FLICKR ALBUM
This service list is broken down into the following categories

- Lighting Modifications Options
- Fabrications Options
- Paint Options

Once you reviewed the modifications, you can price them all together with the provided prices below.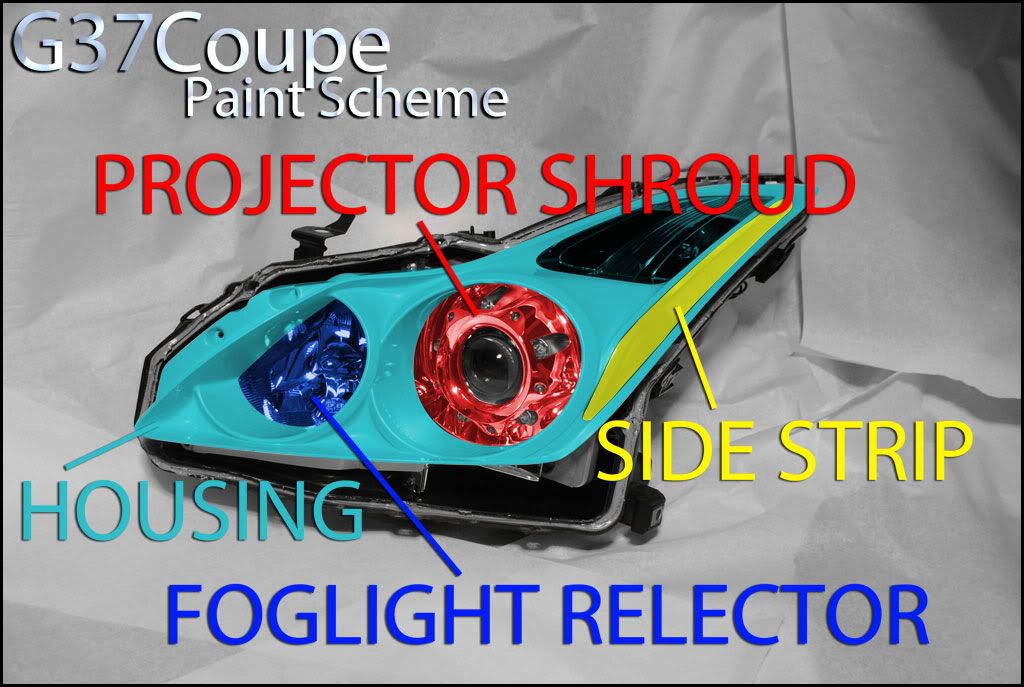 G37 COUPE
HEADLIGHT LIGHTING OPTIONS


Click on

Blue Underlined

text to view a picture for example.
Iron-Man


With hundreds of Iron-Man LED orders fulfilled, it's one of the most demanded modifications. Featuring 8 super-bright LEDs around the projector shroud. In comparison for brightness, our LEDs are on par with LEDs used by Audi,

Mercedes

,

Porsche

, and pretty much any OEM automotive LEDs.

Orb LED Ring


New & latest design of

LED

rings

featuring 50+ intensely bright LEDs enclosed with a clear tube using the "CELIS" technology to evenly distribute the light around the entire loop. These rings are precisely designed to fit the G37 coupe projector shroud extremely flush. From a distance the ring appears to be solid, from up close you can notice the individual LED's. We call this ring design the "LED Orb".

LED SS


A total of 6 LED's that run down the side of the strip on the side of the headlight. The strip can be painted to a color of your desire, or

left

amber

. These LED's are 6000K to match the Iron-Man. We can also make the strip work only as a turn signal and use amber LED's
G37 COUPE HEADLIGHT FABRICATION OPTIONS

We replace the OEM fresnel projector lens with a clear one for a sharper cut off line. Refer to this picture for comparison.

Projector shroud Retro-Fit
Currently the two options are Porsche Panamera-R shrouds with 4 LEDs, and Mini Cooper-R shrouds with 9 LEDs

Carbon Fiber Work
-- Faux - Di Noc 3M, a carbon fiber imitation,available in matte and glossy finish. Only certain areas can be wrapped in CF, such as reflector strip.


G37 COUPE HEADLIGHT PAINT SERVICE OPTIONS
All paint work is done in a

downdraft

paint booth, using automotive PPG brand paint. We offer finishes in gloss, flat, and in matte. We can also mask certain areas of the headlights for a unique look. We strive for the finest quality using extremely rich and thick

clear

gloss

finish

.If you're unsure of what

paint

scheme

you want to go with, feel free to ask us for advice by providing us some details of your car, like a picture or a list of cosmetic mods. We guarantee no paint drips, and provide 1 year warranty against any

paint

chipping

or fading.
Trim Colors

A trim color is the color or finish that's contrasted to the body color (your paint). Chrome is a trim you normally find on a stock vehicle, for instance... the emblems, headlight housings, sometimes door trim and door handles. We offer several trim colors which can be used tie together the paint scheme for your vehicle. If you have flat black wheels, you'd want to tie together the rest of the "theme" by doing flat black headlights, flat black rear valance, flat black front grille/vents, otherwise it gets too tacky when you mix and match different finishes.
Flat:

A dull finish with no shine or reflection.

Matte:

Finish with no reflection, but some shine. - Applied to any color




Gloss:

A mirror like finish, coated with extremely rich and thick glossy clear. - Applied to any color





Premium Trim Colors

Diamond Black Trim:

Metallic black, under a shadow it looks fully black but glistens in the sunlight like a black pearl.

Shadow Trim:

An extremely dark shade of metallic g ray/gunmetal. Like Diamond Black, it's nearly black in the shade but in sunlight it becomes a metallic shade of gunmetal

. Goes great with gunmetal wheels, and

carbon

fiber

accents

.

ALL OEM colors are available, we can paint the entire

headlight

housing

, or bits and pieces for accents with any color of your choice as long as its a manufactured color. Simply let us know what your color or paint code is and which parts you want painted.
PRICING & DETAILS

All pricing varies on whether you ship your headlights or come to our location. We also offer out-call service and can arrange a uninstall/pick up from your house depending on location. Please read all the details, if you are unsure of the pricing, please contact us for assistance.
ON PREMISES HEADLIGHTS REMOVAL & INSTALLATION
:
$50
If you drive in, the charge is $50. This includes removing the front bumper, taking off the headlights and reinstalling them back on once the job is finished.
Base price to open and seal headlights:

$100

+ selected products & services. All pricing is for BOTH headlights
LIGHTING MODIFICATIONS PRICE
LED Orb Ring $150
Iron-Man LEDs $300

LED

SS

$300
Amber LED SS wired as turn signal $350
Parking Light LED Bulbs $20
Demon-Eyes (any color)$150 (separate switch must be installed) (wireless available for $50)
FABRICATION OPTIONS
Projector Clear Lens Replacement & Shield Modification:

$150

(INCLUDES LENS)

Porsche Panamer-R shrouds with 4-LEDs:

$500

Mini Cooper-R shrouds with 9-LEDs:

$600
PAINT OPTIONS
PAINT PRICE
Housings
Matte Black:

$100

Gloss Black:

$200

OEM

Color

-

Coded

:

$200

OEM Pearl White:

$250
Projector Shrouds
Matte Black:

$40

Gloss Black:

$60

OEM Color-Coded

:

$80

OEM

Pearl

White

:

$100
Fog Light Reflector
Matte Black: $40
Gloss Black: $60

OEM Color-Coded

: $80

OEM Pearl White

:

$100
Reflector

Side

Strip
Matte Black:

$40

Gloss Black:

$60

OEM Color-Coded

:

$80

OEM Pearl White

:

$100
Di-Noc CF Wrapped: $80
Pricing Example:
- Bake open headlights $100
-

Gloss

Black

Housing

$200
- Platinum Graphite projector shrouds $80
- Platinum Graphite reflector side strips $80
- Iron-Man LEDs $300
Total: $760 + shipping or installation
Guarantee:
OUR LEDs ARE BRIGHTER THAN ANY OF OUR COMPETITORS

NO PAINT CHIPPING OR PEALING

1 YEAR WARRANTY AGAINST CONDENSATION/PAINT PEALING OR CHIPPING

1 YEAR WARRANTY AGAINST LED FAILURE

EXCELLENT CUSTOMER SERVICE EVEN AFTER YOUR PURCHASE
Warranty:

We will honor warranty for up to ONE YEAR for all modifications/fabrications & paint work, and our

custom

lighting

. We believe in our product, and we assure our products don't normally fail.
- - Claiming warranty:
Call, email or PM us with your order number (your phone number), we will bring up your order from the day it was taken, as long as it falls in within a year of purchase, we will warranty the light NO QUESTIONS ASKED. We will even pay for shipping back to you. You are responsible to cover the shipping to us.
- - Warranty is voided when:
The headlight is tampered by anyone other than ONEighty°
The headlight is sold or gifted to another party
The headlight is damaged in an accident
Duration:
From the day the headlights are received, the process is 3-4 business days, as soon as they're assembled, they're packaged up, you get billed and we mail out the headlights upon receiving payment.
SHIPPING
You will have to pay shipping BOTH ways.
For best shipping, use UPS or FedEx. Do not use the US Postal service.
Make sure to safely package your lights. We are not responsible if the lights arrive damaged. Put tons of

bubble

wrap

on every corner and edge of the headlight or the lens will easily crack/chip.

When we ship the lights back to you, they are carefully and safely packaged to assure they do not get damaged, if the headlight is damaged, we will file an insurance claim with our shipping company.
Share this